Drywall Contracting Services
With over 20 years of drywall contracting experience, Lamont Drywall knows the drywall industry inside and out. Our company provides the following professional services:
Residential Drywall
Lamont handles residential drywall for all housing types and sizes. Residential drywall services may be needed for projects both big and small. Whether it's patching holes from everyday wear and tear, repairing water damage, or repairing wood from an insect infestation, Lamont will repair your home to the way it was. Lamont works on all types of residential projects including quads, townhouses, garden appts, game rooms, additions, shaftwalls, partywalls, older home restoration, etc.
Commercial Drywall
Lamont provides drywall services for commercial type buildings. This includes replacing damaged ceiling tiles or updating an existing office layout. Tired of working in a run down, dated office? Lamont will update your office with professional, more durable drywall that will be sure to last for years to come.
Drywall Hanging/Installation
Lamont uses all the latest USG building materials including new mildew resistant drywall and Sheetrock. More and more home owners are opting for the new materials due to their water resistant and sound barrier properties.
Drywall Finishing
Not all drywall is left to be smooth. The fact is there are many styles of finishes and textures that can be applied to your drywall. When finishing drywall, work area can get pretty dusty when sanding commences. We use the utmost care when working in your house, covering all furniture and other rooms dust might get into.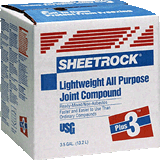 Drywall Repairs
Whether it's water damage, mildew or everyday wear and tear, drywall is going to need repaired or in some case replaced to look its best. Lamont specializes in restoring and renovating old and sometimes forclosed houses. New drywall will make your project look much better, than just throwing a coat of paint on it again.


Dome Ceilings
Lamont Drywall specializes in dome ceilings. Dome ceilings are designed to make the room feel bigger even though the square footed remains unchanged.
View Larger Map

Located just south of Pittsburgh, Lamont Drywall has easy access to every area around the city. Our South Hills office is located approximately 10 miles south of the city right before the cloverleaf intersection of Clairton Boulevard and Curry Hollow Road.
Type of Services
• Residential Drywall
• Commerical Drywall
Individual Services
• Drywall Hanging/Installation
• Drywall Finishing
• Drywall Repairs
• Limited Plaster Work
• Metal and Wood Framing
• Carpentry Work
• Dome Ceilings
• Round Stair Wells
• Room Renovations